White's Welding is a welding and fabrication company with two full-service shops based in Woodward, OK and Washington, PA. Founded by Calvin White in 2000, the business primarily serves the energy sectors.
White's Welding has a long and accomplished history of serving the oilfield industry and holds many accredited welding certificates, including a coil tubing certification.
Through the development of mutually beneficial relationships with our customers, White's Welding has grown exponentially and is now the largest presence in the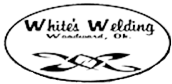 Marcellus and Utica regions in addition to serving customers all across the U.S.
Including related components and custom builds. White's also deploys the highest quality welders to provide 24/7 repair services.
We pride ourselves on providing excellence in customer service and unparalleled integrity.
Safety is ingrained in our culture. We take every precaution necessary to ensure the safety of our equipment, our worksites, our employees and the environment. Some specific measures and practices we have in place include.
Our emphasis on safety shows in our longstanding record.
Whites Welding provides 24/7 welding & fabrication services
To all forms of the energy industry, US Armed Forces, manufacturing and agriculture industries.  Whites Welding employs only the elite welders and complies with all industry, Local, State, and Federal Government requirements and regulations.