Crossfire Production Services
Crossfire Production Services (CPS) was established in 2012 as an additional support company for sister company, White's Equipment Rental (WER), in order to provide the customer a more complete package with unprecedented consistency in regards to safety and cost effectiveness.
Crossfire provides solidification and disposal services and roustabout services as well as providing a highly skilled technician on site at all times to operate a track hoe.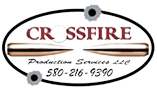 This service company in addition to the other White's companies gives us and our customers a competitive advantage, allowing for synergistic efficiencies to create cost savings and smooth drilling operations.
Crossfire takes many steps to ensure the safety of any worksite it is located at.