All of the companies that make up Whites Energy Services are dedicated to not only meeting but exceeding Local, State, Federal and Industry requirements and standards; we achieve this by working closely with project engineers and managers.
Protecting the safety of our employees & the environment
All Welders must hold/pass all certifications needed before starting on a project.  Whites Energy Companies have an active Safety Program with an ongoing training and professional improvement program. Whites Welding,  Crossfire, Whites Equipment Rental and Payzone have a mentoring program plus a supervisor check list that ensures correct personnel are sent to a customer's location are qualified and trained to perform the task that they are assigned to perform.  All rental equipment that is deployed to a customer's location is thoroughly tested, inspected and documented prior to being transported.
Whites Energy Services strives to provide highly trained personnel and quality equipment to our customers at a competitive price.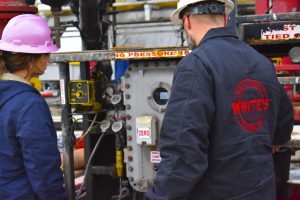 Protecting the safety of our employees and the environment has been one of our primary goals from day one.  We are continually developing  improved/new process systems and equipment to service our community, and our customers.  We achieve this by listening to our customers' needs and complying with State and Federal Regulations.
Below indicates the geographical areas/regions in which we provide and/or have provided services. We have been to numerous off shore locations as well to perform certified coil tubing welds.